The Final Call |
National News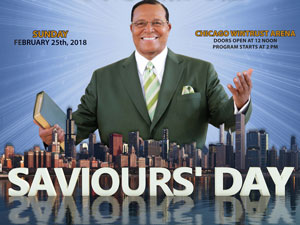 by Final Call News
Saviours' Day is an annual Nation of Islam commemoration of the birth of Master Fard Muhammad, the Great Mahdi of the Muslims and the Messiah of the Christians who appeared... »
FEATURED STORIES
CHICAGO—Saviours' Day, the annual Nation of Islam celebration and crowning...
"We're witnessing a fundamental changing of our demographics around the...
Multi-talented artist finds herself under attack as writer drops the...
CHICAGO — Chicago's issues with gun violence isn't as hotly...
FBI targets what it calls "Black Identity Extremist" groups according...
The Final Call looks at why our daughters are taking...
After a tumultuous year of devastating natural disasters, Mother Nature...
Harsh realities await Blacks in 2018, and to overcome hurdles...
Blacks suffered a year of attacks and distractions but persevered...
Activists keep up economic pressure by using Christmas spending boycotts...
Researchers, activists question how the Chicago Police Dept. tracks and...
Powerful deadly storms and extreme weather events are punishing America....